Call Today: 800-445-0653
Search Our Site
CUSTOM PRODUCTS
Shop Upcoming Holidays
FEATURED PRODUCTS
Customer Favorites
Razorback Gear
Armed Forces
Historical Products
Nautical
Flag Poles
Hardware
Cultural Awareness
Business & Trades
Schools & Universities
Civilian Forces/1st Responders
City/State/Territory Flags
Sports
Special Events
For the Home & Garden
Apparel & More
EMAIL SIGNUP
Custom Banners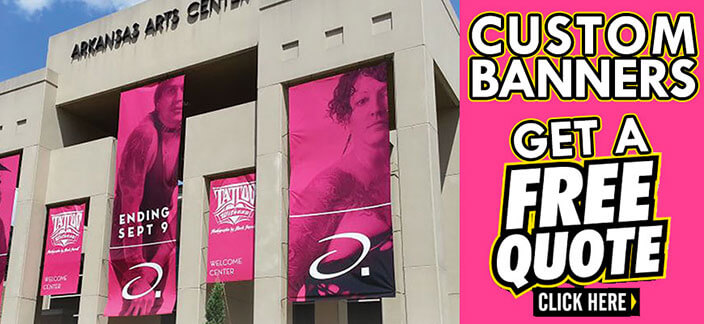 What makes a banner expert? Someone who has been doing it since 1975. Like all industries, the flag and banner industry has been through many changes over the last four decades. We have seen it all— the good, the bad and the ugly. So don't waste your time trying to figure it out; let us do that for you. Tell us your needs, your usage, your time frame and any other particulars, and let us tell you what would work for you. Things to consider before calling or emailing our experts: size, quantity, design, indoor or outdoor usage, how you would like to display it, and your time frame.
Already know what you want? Request a FREE quote on your custom banner now.

Want to see the quality custom banners we have designed for others? Check out our portfolio.
To easily compare the different printing methods and decide what is best for your particular project, download our Custom Banner Comparison Chart. (You'll need Adobe Acrobat to view.)
Custom Banners
Banner Walls
A display you can move with just one hand! The dye-sub printing process actually dyes the fabric for optimum durability and versatility. The Banner Wall uses a special fabric that you can machine wash the banner if needed. The lightweight banner stand is easy to assemble and collapse. Includes carrying case. Quantity pricing available.
Horizontal A-Frame Banner Display
Grab their attention with an attractive Horizontal A-Frame Banner Display Kit. Constructed from sturdy aluminum to withstand the outdoors. The frame is lightweight and easy to use so you can take it anywhere - indoors or out!
Each A-Frame Includes:
Bungee cords
Ground stakes
Soft carry case
Two optional vinyl banners with grommets
---
This is a favorite indoor banner. Your design is first printed onto paper, not the fabric, so your artwork looks crisp with clean edges. Then it is heat pressed onto the fabric. This transfers the dye from the paper to the fabric in a high-quality image, hence the name dye-sublimation. Because the dye is not put directly on to the fabric but rather transferred, it gives you a much broader range of material options.
You can dye-sub nylon, poplin, Dacron, polyduck, voile, satin and more.Yes satin, if you've got the money!
Average price per sq. ft. is $16.00 and quantity pricing is available. Request a FREE quote now or call 1.800.445.0653.
Appliqué banners are the result of skilled artisans and a large stock of nylon fabric colors. We are one of the few companies still ofering this process. Each design is hand cut and sewn on the front and back creating a mirror image on back.
This elegant quilting-like, process is best for small-run orders on large banners.
Due to the process, your design must be solid colors with simple graphics and/or fonts. Vector artwork is required. Click here for more information on our graphic art requirements.

Appliqué banner pricing varies by complexity of design, get a FREE online quote now or call our experts at 1.800.445.0653 for more information.
SIMPLE: Simple design or up to 20 plain letters.
AVERAGE: Moderately detailed design or up to 40 plain letters.
COMPLEX: More detailed design and lettering. The equivalent of up to 60 plain letters.
DETAILED: Multi-colored, more intricate design and lettering. The equivalent of up to 80 plain letters.
---
FAST AND AFFORDABLE VINYL BANNERS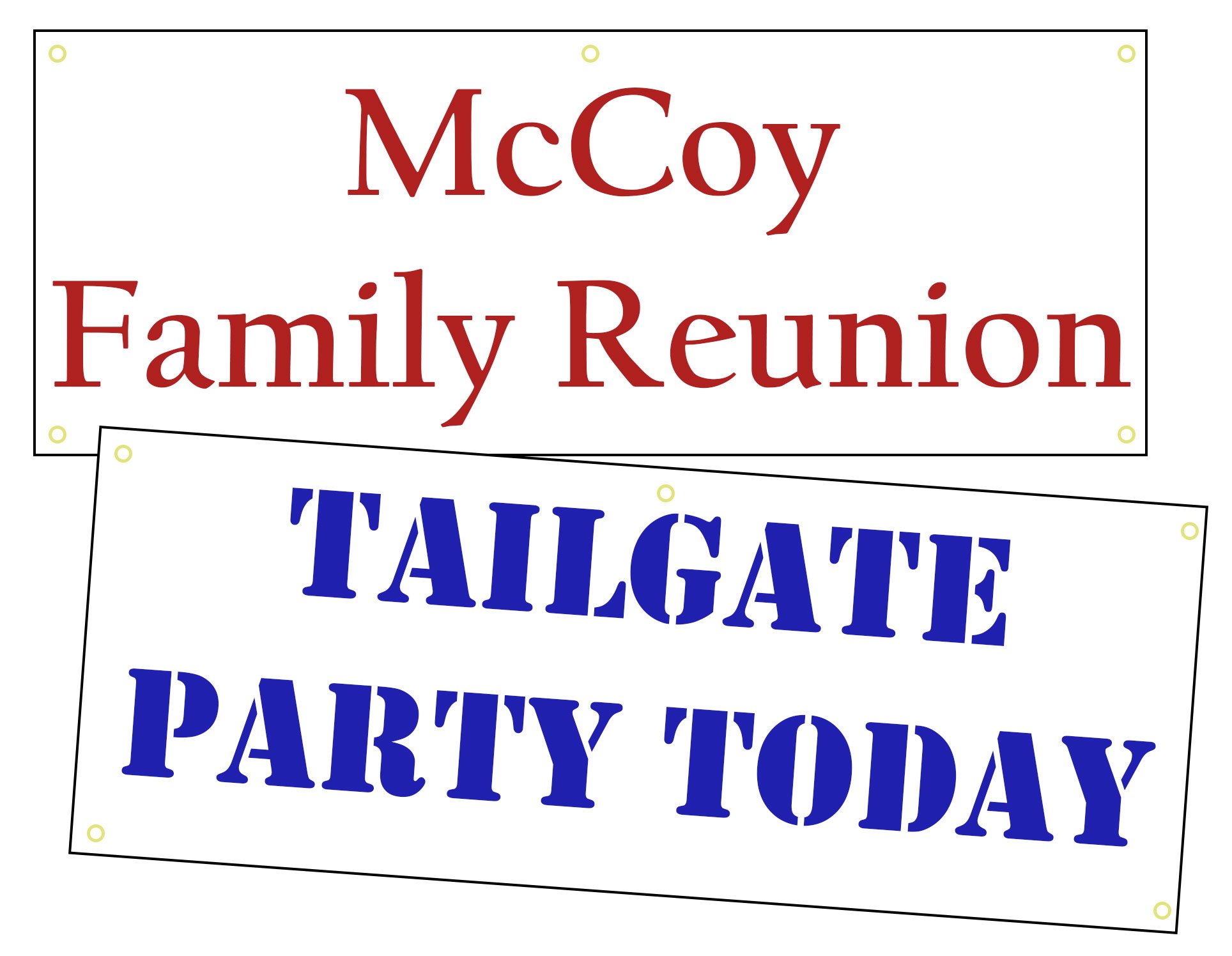 Just exactly what the title says. Our fastest and
most affordable option: a single-sided, durable,
white vinyl banner, text only, with 5 grommets for
hanging anywhere.
3 ft. x 6 ft. - $125.00 per banner, no setup fee!

3 ft. x 8 ft. - $148.00 per banner, no setup fee!
Commercial-Grade Vinyl Banners
Custom banners come in all shapes and sizes. Our commercial-grade vinyl banners are by far our most popular. These custom banners are used for advertising and signage where a hard sign is not practical or restricted by community/city law.
Pricing below inclues grommets. Quantity pricing is available. Image appears on one size and requires vector andor raster artwork. See our graphic art requirements for details.
Email sales@flagandbanner.com for questions or get a FREE online quote now.
View our custom banner portfolio for ideas and inspiration for your custom banner!
| | | |
| --- | --- | --- |
| Material | Size | Price |
| 13 oz. vinyl | 01-19 sq. ft. | $10.00/sq.ft |
| 13 oz. vinyl | 20-49 sq. ft. | $8.00/sq.ft |
| 13 oz. vinyl | 50-99 sq. ft. | $6.00/sq.ft |
| 13 oz. vinyl | 100-199 sq. ft. | $5.00/sq.ft |
| 13 oz. vinyl | over 200 sq. ft. | $4.00/sq.ft |
---
The
gonfalon
is a type of
heraldic banner
that is often pointed or swallow-tailed. They can be suspended from a cross bar on a presentation pole, and are sometimes displayed with several streamers. Popular in universities and churches, they can be made of digitally-printed nylon or dye-sublimated poplin.
Your windows are free real estate for advertising, so don't waste your space! Get your message out with this amazing transparent window scrim material. A self-adhesive mesh adheres and removes easily from glass, allowing you to see out and for those outside to see your advertising. Your image is digitally-printed on one side, of course.
Average price is $15.00 per sq ft.
Get a FREE online quote now!
Quantity pricing is available.
---
Mesh banners are commercial-grade vinyl banners but with tiny holes. If high winds or wind tunnels are an issue, or if you're spanning a large area, we highly recommend this option to decrease your likeliness of hardware and installation failure. Keep in mind banners are just big sails with graphics. No really, they catch and cup the wind, which is also how we move ships. Image is digitally printed on one side.