Call Today: 800-445-0653
Search Our Site
CUSTOM PRODUCTS
Shop Upcoming Holidays
FEATURED PRODUCTS
Customer Favorites
Razorback Gear
Armed Forces
Historical Products
Nautical
Flag Poles
Hardware
Cultural Awareness
Business & Trades
Schools & Universities
Civilian Forces/1st Responders
City/State/Territory Flags
Sports
Special Events
For the Home & Garden
Apparel & More
EMAIL SIGNUP
» Home
» Pirates Printable Party Pack
Pirates Printable Party Pack
Is your child obsessed with Pirates and you want to host a Pirate Themed Birthday Party for them? Then you've come to the right place! FlagandBanner.com is now offering not only decorations like flags, banners, temporary pirate tatoos and pennants but also four FREE printable items to help save on your party budget. These fun FREE items included on this page all have a Pirate Theme and you can print as few or as many as you need! Items included are an Invitation, Cupcake Toppers, Loot or Goody Bag Toppers and a Thank You Card.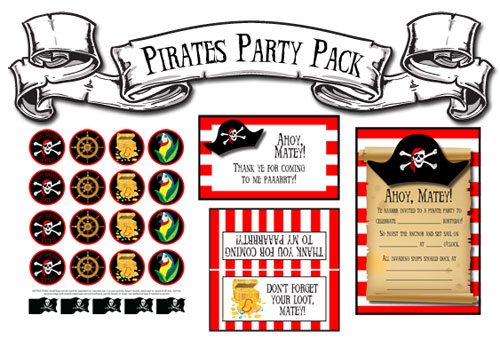 Download Goody/Loot Bag Toppers | Cupcake Picks | Invitations | Thank You cards
Once you have your FREE printables, you'll want to grab your other decorations. Our Jolly Roger Pirate Flag (which matches our FREE printables) would be a perfect decoration/gift. Use the flag in your decorations and then, because it is a *real* outdoor flag and not just plastic or paper, your child can have it hung in their bedroom or even outdoors as a reminder of this special birthday! Mom, it is a great keepsake for you too. Or maybe Dad and Son would like to put it on the family boat? The pennants will also last longer than just one birthday party. These too can be used to decorate your Pirate obsessed child's room! There are so many creative possibilities that you and your child can have fun with.
Sorry! We do not have any products listed in the website that match your search criteria. Try expanding your search or contacting customer service with questions.
Search Tips:
Other items that may help.
You don't have to be particularly "crafty" to use these free items. The instructions are simple and the only tools you need are things you may already have or something you can pick up at practically any store, even dollar stores.
• FREE Adobe Acrobat Reader to download the print the items
• A color printer (any color printer will do, inkjet or laser is fine)
• Heavy paper or cardstock
• A black magic marker (like a Sharpie)
• Round or flat toothpicks (whichever you have on hand)
• Double stick tape and/or glue dots if you don't have those but have a glue gun, that's fine too.
• Loot or goody bags or even zip top snack size bags
• Last an office size stapler (mini personal staplers are a little too small for this job)